Well, first off, I was wondering what your original background is...have you always done food?
"No not at all. If you would have told 12 year old me that I would someday be a baker, I would have laughed…I always wanted to be an artist. I was always making things. Crafting I suppose you could call it.

When I got to be a junior in High School, I was told that if I wanted to be an artist, I had to be a graphic designer. Because that is what an artist is in the real world. So that's what I did. I went to college for graphic design, got my degree, got a job, did it for a few years and pretty much hated it. I started baking and decorating cakes on the side as an outlet for my creative side"
Ah...when did you start Artisan Cake Company?
"I officially quite my job and started baking full time January of 2008, a few months after I got married. I don't think my new hubby really saw that one coming!"
"

It has gone incredibly well. The good thing about my graphic design background is that it has helped a lot with working with clients, designing my own website and promotional materials and even designing the cakes themselves.

I just moved on to edible art instead of graphic design, but it really started my love of baking and cooking."
Looking at the cakes on your site for Artisan, there's a Steampunk one that really stands out...what is the story behind that cake?
"That cake was made for

a contest on cake central.

A great website for lovers of cake and decorators. They used to have monthly decorating contests that people would enter and they would give away prizes.

They announced a steampunk cake contest and it was SUCH an upset amongst the community because I would say 90% of decorators had NO CLUE what steampunk was and when they saw it, it was like blasphemy to them!...I had to enter. I won first place!"
What made you so familiar with Steampunk? What got you interested in the genre?
"I think it was something that was always there. I used to play this video game called Final Fantasy when I was a kid. There are a lot of airships and old Victorian type look characters, and I always was drawn to that look. It wasn't until recent years that I even knew it was an actual genre
The more I learned about it, the more I loved it. I just love the idea of everything being made by hand. No plastic. No fake stuff. All wood, metal and steam. This is what made me fall in love with the artisan ideals.

Not just making something, but making it beautiful and doing it right"
Now, how do Savor Cakes fit in with that aesthetic?
"Well savor cakes aren't that easy to make. There are a lot of steps to making each dough, each filling and choosing really good ingredients from local sources.

I do everything by hand, I don't buy anything pre-made and I only use natural ingredients…it's like high-fructose corn syrup or shortening was never invented in my world."
"Everything I can find really. I buy my flours from Bob's Red Mill. My meats from a nearby butcher and all my veggies from the farmers market or my own garden. Especially herbs."
So everything as fresh as possible?
"Yes

! When I was growing up, we had 4 gardens and every summer was spent canning and freezing. It wasn't until I was in High School that I really learned that not everyone lived that way.

I did the fast food thing for a while when I was younger but I just got more and more unhealthy. I didn't like where I was heading. When I first started baking, I knew right away that I wanted to use natural ingredients where possible so that I could feel good about what I was giving people."
Speaking of fast food...how fast are the Savor Cakes ready?
"Each one takes about 20 minutes to bake. Depending on the savor cake. Some doughs are baked ahead of time and filled as they are ordered with a fresh filling. Others are par-baked in the early morning and then re-warmed and finished off in an infra-red oven before serving. This allows them to not get over baked and still taste perfect fresh out of the oven

It has taken a lot of experimenting and taste testing to get it right but it's a fun job!"
I bet it is! What meals are you going to serve? Are you going to compete with the big breakfast companies? How many carts really do that?
"I have a lot of flavors in mind but I plan on only serving 2-3 kinds a day and have the themes change with the seasons and what is available

We will always have a breakfast savor cake, a lunch and a special diet (gluten free, vegan, vegetarian)...I think there is huge need for more convenient breakfast items in Portland and not very many carts do breakfast."
What sort of niche would you classify Savor Cakes as belonging to? Would you call them a modern take on the meat pies sold on every street corner in Victorian days?
"You know that is a good question. I'm not sure what type of food you would call a savor cake. Because the fillings are folded into the dough, they are different then a pie. I think they are in that genre though. The savory foods we all feel nostalgic about and make us feel like we've been whisked away to times gone by but definitely a new take on it. Maybe a cross between a cupcake and a savory pie."
Sounds good to me...what about the cart? How are you making this cart really stand out?
"I started daydreaming about flying ships and my love for the steampunk aesthetic. I sketched out ideas in my spare time and I watched this cart come to life on the page
.
Lots of old wood, gears, metal work, interesting details and of course, wings. I wanted this cart to be something that I could take to events and it would be art as well as a place to get delicious food
,
and I could finally have my airship"
What do you still need to get the cart up and running?
" I found a great trailer to renovate (conveniently in my neighbors field) and once I bought it, I felt like it was time to really get this cart going. There was nothing really holding me back but me (and finances).

Being self employed, I can't really afford a huge loan so I didn't really think the cart could ever be a reality until a friend told me about a website called

kickstarter.com

...I started up my own project for the savor cakes cart so that we could finish getting the cart renovated and buy the appliances."
How much do you have left to raise?
"As of today we have raised $2,530 and we need to raise $12,000. Only 21 more days to go before our deadline! If we don't get enough pledges before the deadline, then we don't get anything. This is an incentive for people to pledge now and not later. Every dollar really does add up!"
What sorts of rewards do you have for people who donate to help your dream come true?
"Really cool stuff! I wanted to be able to offer some rewards that people would actually want and things that I could ship to out-of-stater's who just want to support a steampunk food cart!

Donating $5 gets you a cool steampunk pin deeming you part of the "savor cakes crew". We also have Certificates for free savor cakes, recycled bags with original artwork (perfect for the farmers market), signed and numbered copies of the "Local produce airship" that I illustrated for this project, reusable savor cake carriers, and even private catered parties! There is something great for every donation because every donation is truly appreciated no matter how big or small!"
I have to say...I LOVE the vegetable airship graphic. How did you come up with that?



"It was another idea that sort of came to life on paper. I wanted to do an illustration of an airship as a giveaway. Originally I designed one in pen and ink that looked very much like the cart. It was watercolor, sepia toned and had that old victorian look to it.

I showed it to hubby and he ever so nicely told me it was "ok" haha!

Ok will just not do in my book!

I wanted something really great!

I started thinking less literally about the airship and more about what it's about. It's about food! Local food! I don't generally think of so many colors when I think of steampunk but I think it still works.

And even people who don't know what steampunk is can appreciate a flying ship made of veggies."
When the Savor Cakes food truck is ready, how will prospective customers find you? Twitter? FoodCartsPortland.com?
"

All of the above. I am a firm believer in the power of social networking

I'll be twittering, facebooking and even tumblring new flavors, locations, specials deals of the day by saying the "secret password"

I want to encourage people to follow us and get something out of that you couldn't otherwise. Like a fun secret society of savor cakes!"
Do you have any plans to take your cart to any nearby events or conventions like Steamcon or next year's GEAR Con?
" Yes definitely!
Last but not least, if you had to choose one Savor Cake to serve to, say, the president…what would be "the pick of the litter"?
" Oh gosh! presssuuuure! Haha!

I think that one of the great things about savor cakes is that there is something for everyone. We have gluten free, vegan, vegetarian and full on nothing but meat and cheese. So you don't have to settle. My personal favorite is something called the 3 little pigs in a blanket.
It's a peppery buttery bread dough, filled with a creamy cheesy white sauce and three different kinds of sausages and some bacon just for good measure. It's the one I always reach for at lunch time. I never get tired of it! I think Obama would dig it."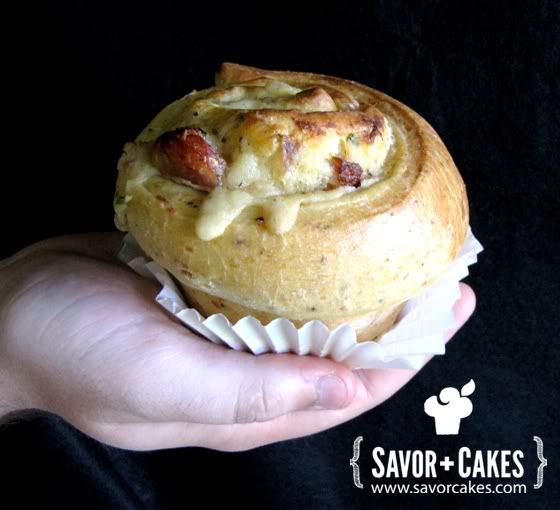 If you would like to help Elizabeth Marek make this dream a reality, please go to her Kickstarter Page. Every dollar counts! She only has until Thursday, August 11th, to raise the money she needs.