Alright, not a food related person today, but one of my personal heroes of the Gilded Age. This is an amazingly capable, strong woman, who deserves to be known, especially by those who have a thirst for adventure.
Born Elizabeth Cochrane on May 5th, 1867, Bly's father died when she was six years old, leaving her mother
to care for a total of 15 children
. She moved to Pittsburgh at the age of 16 to find work, and dreamed of becoming a writer in an era when women who worked outside the home or the very narrow fields of nursing or teaching were often ridiculed. Opportunity came by chance when at 18 she wrote a passionate anonymous response to the columnist
Erasmus Wilson
, who wrote for the
Pittsburgh Dispatch
as "Quiet Observer". The paper was impressed, and placed an ad, requesting that she come forward, and giving her a nom de plume based on a popular Steven Foster song.
Such a domestic sentiment to try and temper her outspoken nature followed the early portion of Bly's career. As she attempted to draw on her own experience, writing articles about conditions in tenements, and the difficulties faced by factory worker and maids, she pioneered many features of modern investigative journalism, going undercover and taking jobs herself, rather then simply relying on speaking to others. Despite this groundbreaking approach, her work was often left in the middle of the society and garden section, the only place a select few women journalists had a voice.
In September of 1887, she managed to join the staff of Joseph Pulitzer's
The New York World
, the beginning of her most amazing adventures. She raced around the world
in 72 days
, beating all similar records set by men, exposed shady lobbyists, and covered the plight of unwed mothers. She contrived her own arrest on larceny charges and reported her experiences being strip searched and
spending the night in a coed jail
, and interviewed controversial figures such as Susan B. Anthony and famous anarchist
Emma Goldman
.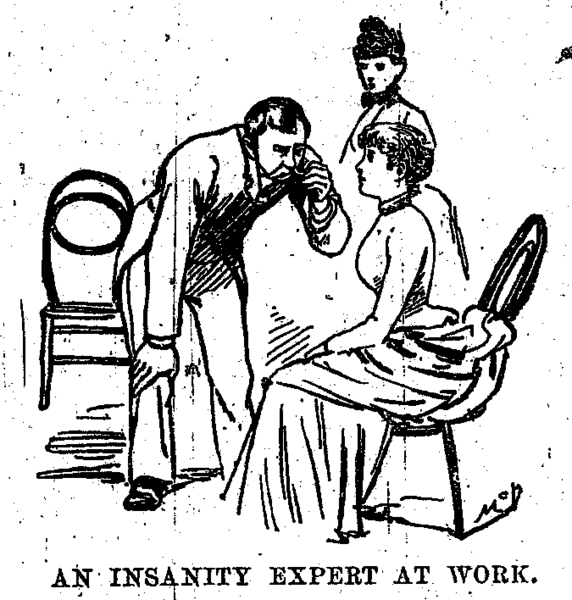 One such stunt which is particularly important in my mind, is the work Bly did to raise awareness of the plight of those who were considered insane. In going undercover on Blackwell's Island, she entered the world of
The Yellow Wallpaper
, long before an understanding of issues such as anxiety disorders or
Post-Partum Depression
. While today psychological issues are still often poorly understood, and can still carry stigma, contempt, and fear, she courageously documented women who were wrongly imprisoned due to language difficulties or disabilities, or even due to something like disagreements with male family members. While anxious but nonviolent to be admitted, and perfectly sane once inside, she was dismissed by doctors, threatened by nurses, and documented pest-filled food, cold, disease. Here articles can be read in book form
here under the title Ten Days in a Mad-House
, and I would strongly recommend doing so.
Authors like Nellie Bly remind us where we have been. That only three generations ago, four at most, women could be imprisoned as mad simply on the word of their male relations. We could not vote or run for office, and even if widows like my great-grandmother were prevented by social stigma from getting a better-paying job then the brutal life of a laundress. In a divorce, the male spouse would keep whatever the woman had brought into the marriage, as well as the children, and have complete say over his wife's assets while married. Women like Bly, Susan B. Anthony, and yes, even controversial spitfires like Emma Goldman are WHY we now have the rights we do. Many women in the world still do not, and it's important to remember that, and not go backwards. We stand on the shoulders of our great-grandmothers. I only hope I can live up to standing on the shoulders of the likes of Nellie Bly.