"Be joyful, and keep your faith and your creed. Do the little things that you have seen me do and heard about. I will walk the path that our fathers have trod before us."--Saint David
If you're American, chances are that March equals St. Patrick's Day. Did you know, though, that each of the portions of the United Kingdom have a patron saint, and a local celebration of their unique culture and roots?
Next Tuesday (besides being the birthday of a much-loved nephew of mine) is the feast of St. David, or Dewi Sant, the Patron of Wales. Why does this day (or for that matter the feasts of St. George or Andrew) not get the recognition in American culture that St. Patrick's day does?
Part of the reason might be that the Welsh never came to America in droves the way the Potato Famine drove the Irish. Welsh came in smaller numbers, moving to rural areas, rather then forming large neighborhoods in major cities. Quarry workers in Maryland, and coal miners in Ohio and Pennsylvania made up the major migration pattern in the Eastern States, whereas one of the main sources of Welsh migration in the West was
converting to the Church of Jesus Christ of Latter-Day Saints
, or Mormon (and contributing traditional Welsh four-part harmony to
Mormon hymns
). A rather impressive
20% of the inhabitants of the state of Utah
have Welsh ancestry, a heritage visible in the features my husband's family.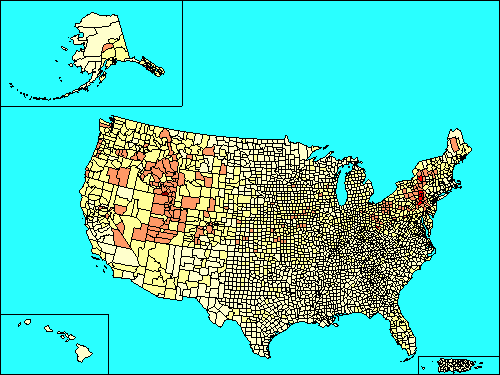 So who was Saint David of Wales?
According to legend, he was the son
St. Non
, due to her ravishment by a local chieftain. He grew up to found a monetary in Meniva, in Southwest Wales,
known for it's intense study and labor
, where he died sometime around 589 AD.
He is often shown with a dove on his shoulder, due to a story in which he had difficulty speaking to a gathered crowd, at which point, a dove rested on him(the symbol of the Holy Spirit), and his voice became amplified so that all could hear. Another story claims that during a battle in which the Welsh were attempting to keep out invading Saxons. A monk called from the side of the fray, telling the Welsh to take up the wild leeks from the field, attaching them to their hats so they could tell friend from foe, leading to victory.
No one knows whether the story is true or not, but the leek has been tied to St. David for a very long time, and has long been a very political symbol of
Welsh independence
. More recently, the daffodil has been suggested as a substitute symbol, but even now use of the leek is seen as a
form of quiet rebellion
If you would like to implement leeks, or Welsh food into your menu on the first, one great recipe would be a pie made with
chicken, leeks, prunes, and Welsh Caerphilly cheese
. While the combination might sound slightly odd at first, the prunes compliment the savory flavors of the other ingredients, and add to the richness of the cheese. It would also take well to my
Two Chicken Week menu
, by using simply seasoned leftover chicken.
Some other ideas to try:
Bara Brith
, a type of black bread
Cawl
, a broth with meat and vegetables.
A traditional lamb dinner
...while we get most of our (often scanty) lamb from Idaho or New Zealand, Wales is famous for it!
Welsh Festivals in America:
The North American Festival of Wales
(held in early September, in Cleveland, Ohio)
The Fredericksburg Welsh Festival
(September 25th)
The Malad Valley Welsh Festival
(June 25th and 26th this year, Malad Idaho)